Search for
Outfitters Accessing information on our outfitters and comparision of all your various fishing or hunting vacation options is easy

Free Fishing
Map This is your guide to fishing, hunting and outdoor recreation for Northwestern Ontario - Canada's Great Outdoors.
Winter Activities in Canada's Heartland
So.... you're thinking of making a trip to Canada's Heartland for the fishing, hunting or wilderness adventure trip of a lifetime or are just passing through and need a place to stay for the night. Well you've come to right place to get information on overnight accommodation in the Patricia Region. The Patricia Regional Tourist Council maintains a series of websites each targeted to a particular sector of the tourism industry in our vast wilderness area of Canada's Heartland. This site is dedicated to providing information on the Region's Motels, Hotels, Motor Inns and Bed and Breakfast establishments.
The fishing and hunting here are second to none with our primary fish species being walleye, northern pike, musky, trout and smallmouth bass. We are also famous for deer, moose, bear and small game hunting. But that being said there are myriad of other adventures that you can participate in from a "base" at one of the fine motels or hotels in our area. There are 6 golf courses, several fine museums, a bunch of local festivals, industrial tours and great shopping opportunities just to mention a few extra curricular activities.
This particular site is dedicated to the Motels, Hotels and B&Bs of the region, so whether you are looking for a small cozy motel or a full service hotel, we'll help you find the perfect accommodations in Ontario's Patricia Region.
Come see the famous "Dryden Trophy Buck"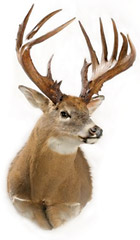 on display at the Dryden and District Museum 15 Van Horne Avenue, Dryden 807-223-4671
* Mounting and photo: Hawkins Taxidermy
* The Dryden Buck was forfeited to the Crown after the hunters who killed it were convicted of shooting the buck illegally.
Festivals of Canada's Heartland
Click the logos below to visit festival sites:
JUNE





Vermilion Bay

Dryden
JULY




Red Lake

Ignace

Pickle Lake
AUGUST




Ear Falls

Sioux Lookout